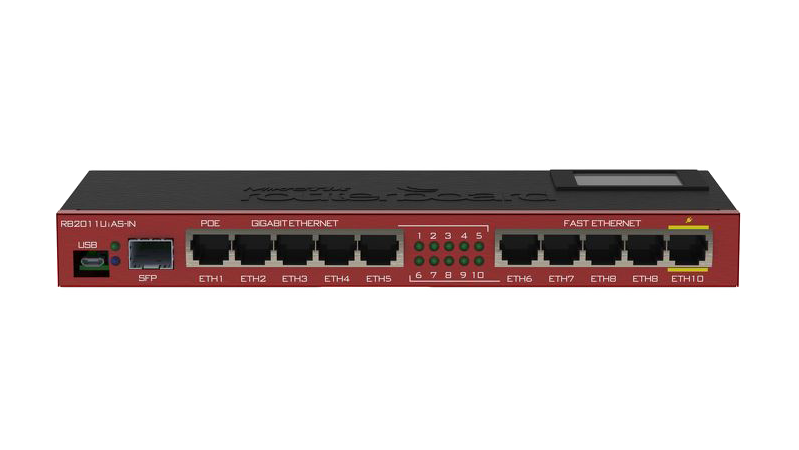 RB2011UiAS-IN
---
Free Shipping in Vietnam.
Feature
The RB2011 is a low cost multi port device series. Designed for indoor use, and available in many different cases, with a multitude of options.
The RB2011 is powered by RouterOS, a fully featured routing operating system which has been continuously improved for fifteen years. Dynamic routing, hotspot, firewall, MPLS, VPN, advanced quality of service, load balancing and bonding, real-time configuration and monitoring - just a few of the vast number of features supported by RouterOS.
RouterBOARD 2011UiAS-IN, in comparison with RB2011L series, not only has five Gigabit LAN ports and five Fast Ethernet LAN ports, but also has RJ45 serial port, microUSB port and more RAM (128MB instead of 64MB). Also, it has RouterOS L5 license (instead of L4) and nice touchscreen LCD for configuration. SFP cage is also present (SFP module not included!)
Tested and recommended to use with MikroTik SFP modules: S-85DLC05D, S-31DLC20D and S-35/53LC20D (not included)
There is PoE output function for port #10 - it can power other PoE capable devices with the same voltage as applied to the unit. Maximum load on the port is 500mA.
RouterBOARD 2011UiAS-IN comes with desktop enclosure, LCD panel and power supply.
Wall mount kit (product code RBWMK) for network closet is available for purchase as an optional accessory.
Product Specifications
​Product code
RB2011UiAS-IN
​CPU nominal frequency
600 MHz
​CPU core count
1
​RAM
128 MB
​10/100 Ethernet ports
5
​10/100/1000 Ethernet ports
5
​SFP ports
1
​SFP+ ports
0
​Serial port
RJ45
​MiniPCI slots
​0
​MiniPCI-e slots
​0
​Number of USB ports
​1
​USB slot type
​microUSB type AB
​Power Jack
1
​Supported input voltage
8 V - 30 V
​PoE in
Yes
​PoE out
​Yes
​Voltage Monitor
​Yes
​Current Monitor
No
​CPU temperature monitor
No
PCB temperature monitor
Yes
​CPU Type
AR9344-DC3A-R
​Operating System
​RouterOS
​License level
5
​Operating temperature range
-35C to +65C
​

​Dimensions

​

214mm x 86mm for PCB
*
Specificatons can be change without notification
.